How can Odoo WhatsApp API Integration benefit your Business?
Maintaining efficient communication with clients, consumers, employees, and customers is always a vital factor for any firm. These days, more companies are relying on WhatsApp to improve customer service and boost customer loyalty.
With WhatsApp's popularity and usage across the globe, businesses are fascinated by the Business API. WhatsApp's ease of communication can be seen in its popularity and usage.
Have you ever considered how integrating WhatsApp API with your ERP might impact your business?


Considering the ever-increasing competition of business, integrating Odoo, a worldwide accepted open-source ERP with around 7 million users, with WhatsApp is a great move forward.
As your business expands, keeping track of contact and utilizing it to gain a competitive advantage will become difficult. Odoo-WhatsApp API integration provides organizations with the opportunity to reach leads immediately, build strong customer relationships, and maximize connectivity which gradually leads your business into a profitable venture.
Odoo is capable of being integrated with any software since it can be adapted to work with third-party applications. Odoo provides an Application Programming Interface (API), making it simple to integrate third-party applications like WhatsApp to enhance the functionality of your business.
The Odoo-WhatsApp API integration is compatible with all Odoo modules, including e-commerce, sales, accounting, purchase, CRM, etc. 
Let's have a look at the benefits you can gain by integrating WhatsApp API with Odoo:


Communication with customers has become easy-breezy. WhatsApp contact list is just enough to interact with clients.

Messages can be sent to multiple contacts with multiple attachments.

A single WhatsApp number is enough for an entire company.

Complete product details, invoices, and receipts pdf can be sent to the customer in a single click.

Faster communication results in quicker decisions, which helps enterprises stay ahead of the competition.

Odoo chatbot feature ensures that customer gets instant responses to their queries. It enables administrators to set up custom commands and responses to serve their customers. 

Predefined messages/templates can be stored and sent to customers as needed.

Order information can be sent from the Account invoice & payment.

Group chat is also possible with this integration.

Any media files such as product videos, pictures, PDFs, .doc files, etc. can be sent.
  1 .
WhatsApp Chat Interface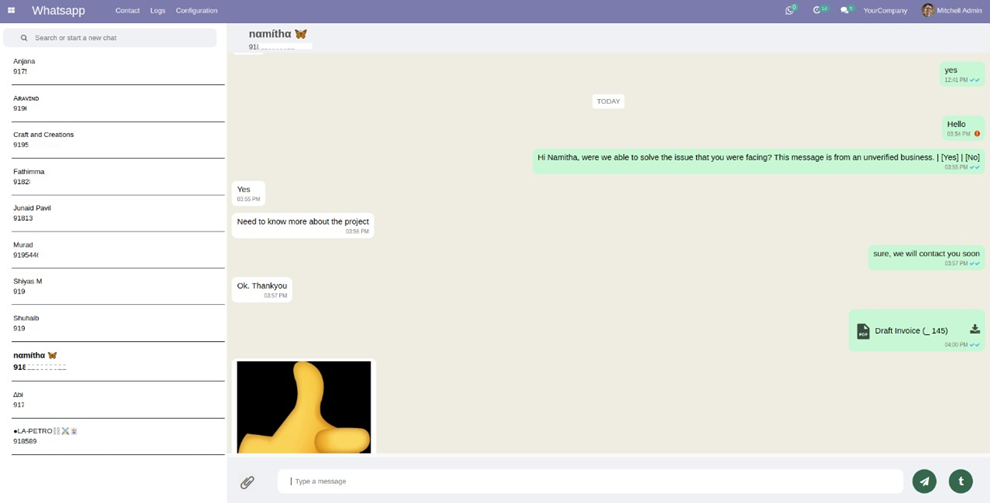 2. Predefined WhatsApp message template from WhatsApp Interface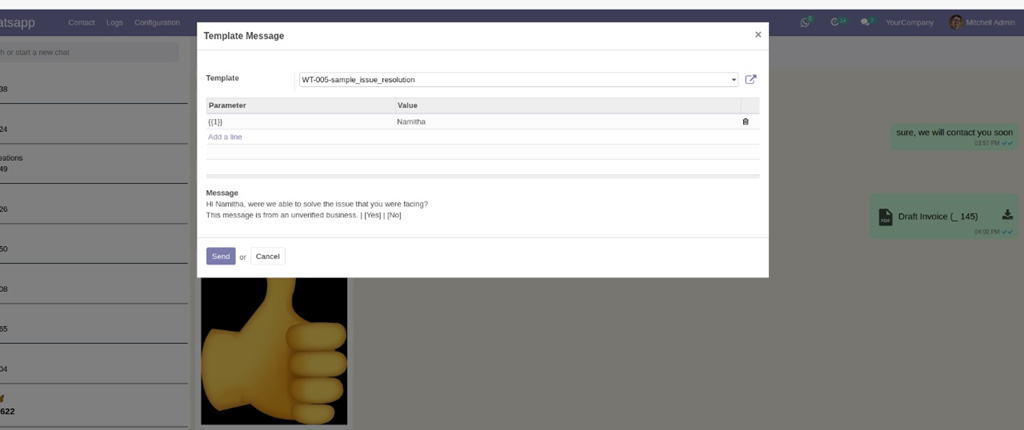 3. Can send WhatsApp messages directly from any Odoo module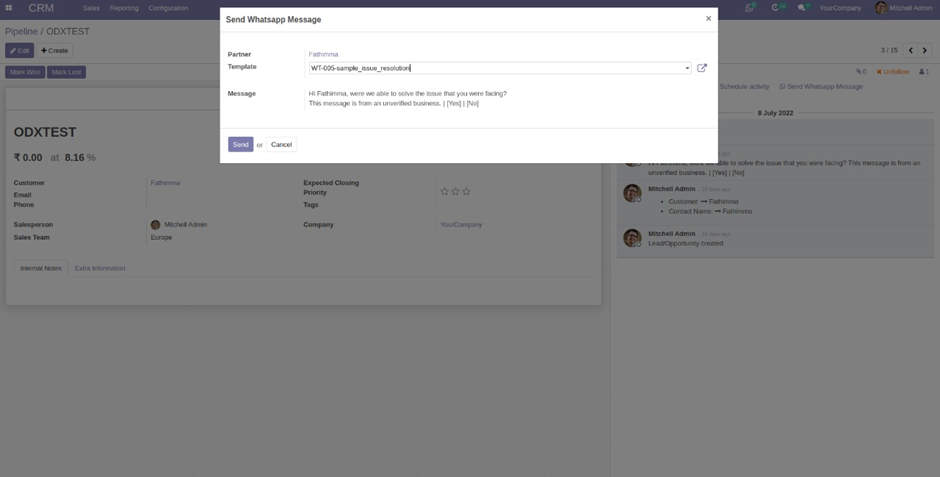 4. Can send WhatsApp messages directly from any Odoo module
 (Session Messaging )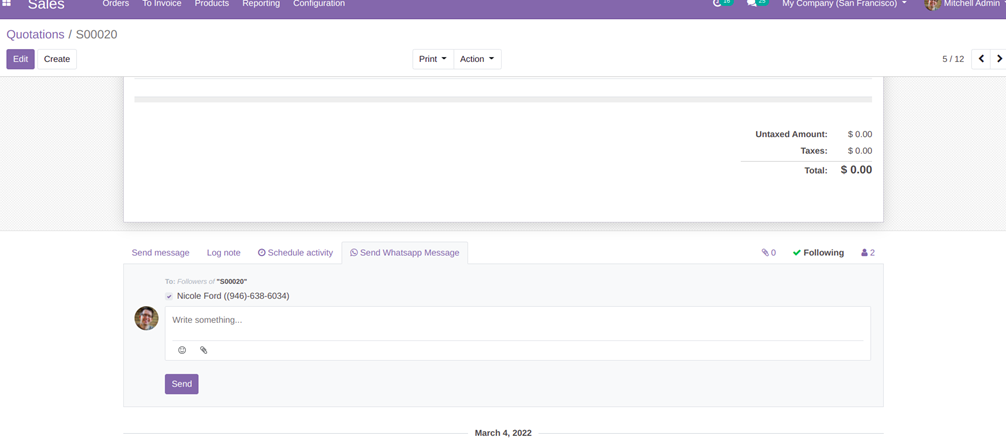 We at Odox SoftHub developed an Odoo Application through which chatting with customers is possible via WhatsApp application.
    Odoo WhatsApp API integration will simplify customer interaction, respond to all customer requests instantly, collect feedback from customers, nurture leads, and play a vital role in making customers feel valued. 
      Faster communication leads to quicker decisions, which enables companies to stay on top of the competition. You can rely on us to help you build a brighter future for your business. For more info drop your mail at      info@odoxsofthub.com