Odoo Subscription Module is one of the key modules for business growth by supporting many business communication platforms. The module helps simplifies subscription management and recurring billing. By using the Subscription Business model, we can add a subscription to products, create a subscription template, create a Subscription Plan, and sell the plan.
The customer after starting a subscription can renew, close, and cancel the subscription plan at any time. The admin can set the validity and payment of a subscription plan and the payment can be done by the customer using their website.
Subscription Home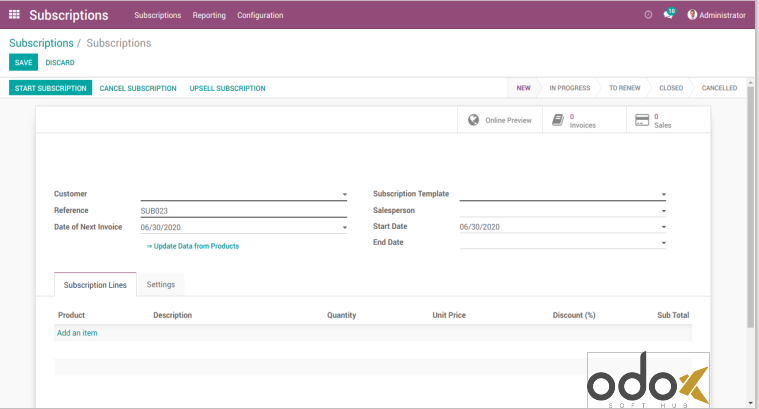 Subscription Page Contains the following:
Subscription Plan as a Product
Subscription Template

Goto Subscription--> Configuration--> Subscription Templates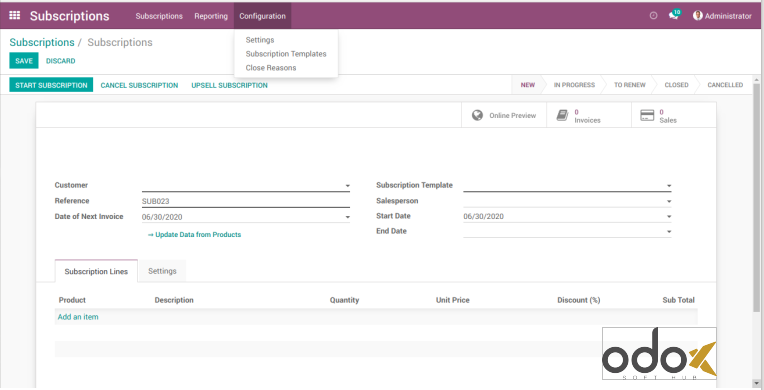 In subscription templates contain about subscription plan.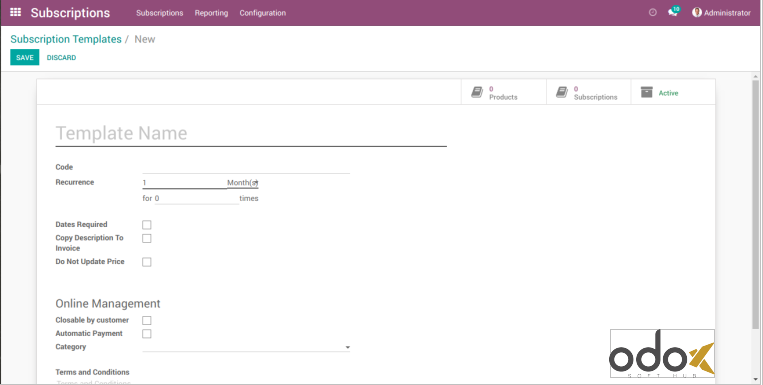 Subscription Template contains,
Recurrence
: Repeats every day, month, and year.
If 
Automatic Payment
is checked 
payment will be made automatically and an invoice will not be generated if payment attempt is unsuccessful.
If Date Required field is true then show Date Field in the invoice.
The
Description
and
Price
can reflect in the invoice if added on this page. 
The online management tab contains what actions can be provided by customers.
 Now, we can assign different subscription templates to different subscription products.
Subscription Product
Goto Subscriptions-->
Subscription Products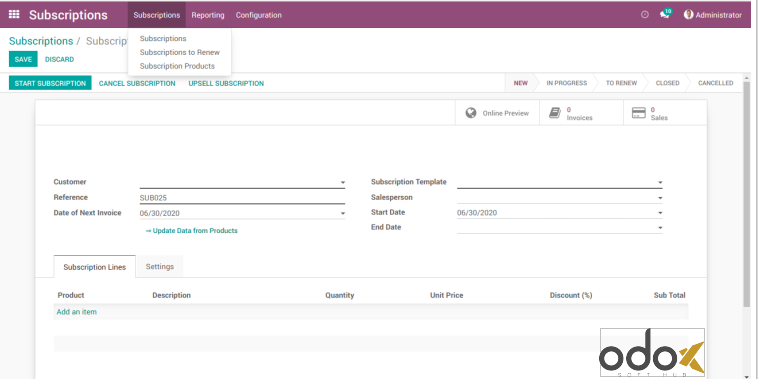 In subscription, Products create subscription Plans Details.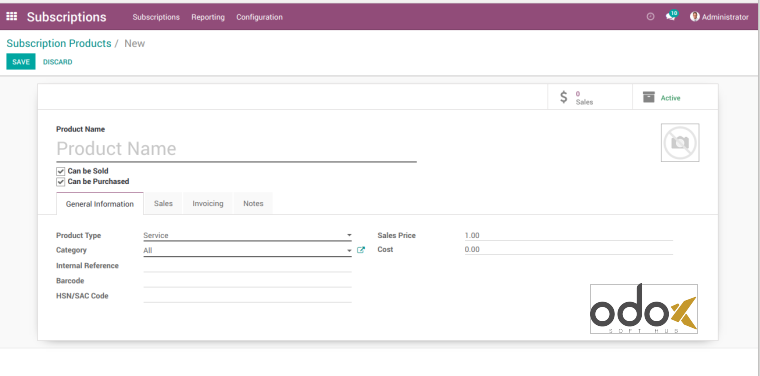 Subscription Product Contains name, price, sales, and Invoice details. The creation of Subscription products is the same as normal product creation in Odoo. In subscription, the window plan is selected as a product.


How to Sell a Subscription?
A subscription for a customer is created and starts automatically when we create a sale order for a subscription product.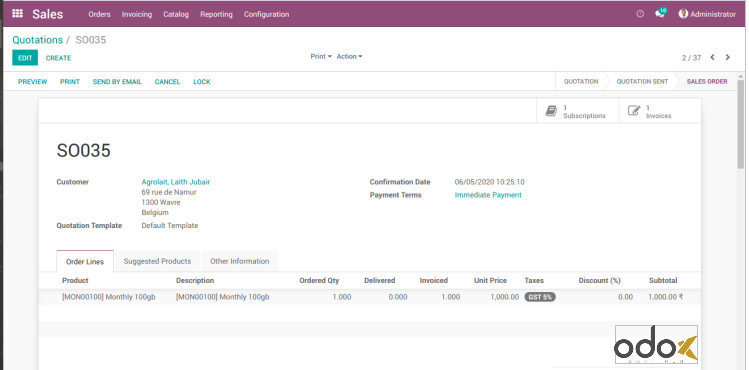 When subscription starts, customers have full right to cancel close or renew the subscription, since they can access it through their website account. To renew the subscription, the customer must stop the current subscription and create another sale order for the renewed one. To cancel or close a subscription, the customer has to give a valid reason to cancel/close it, and then they can stop the current subscription.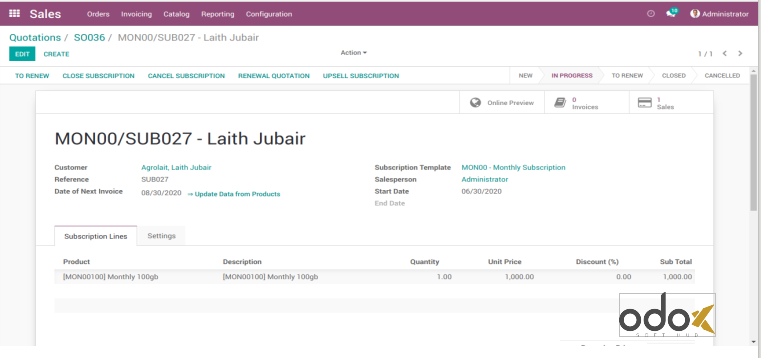 Upsell Subscription means, adding an extra subscription plan to the current subscription.
Customer Window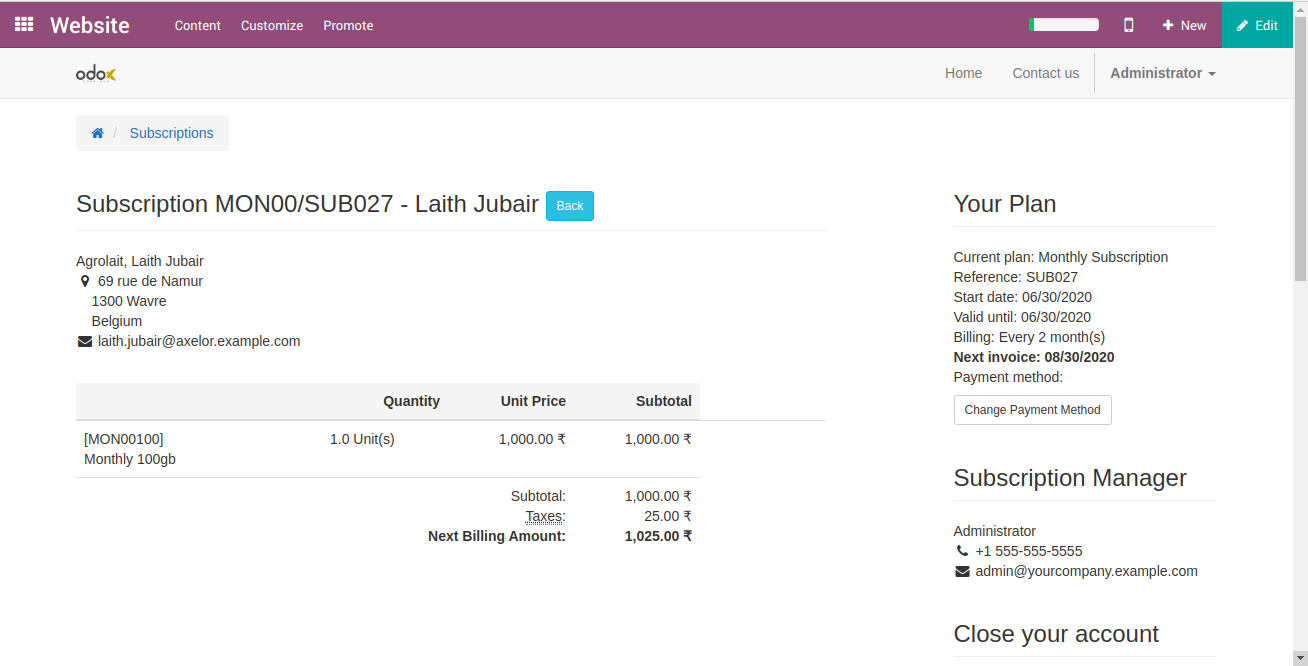 Customers can preview their plan in the customer window, where they can get complete details such as name, start date, validity, next invoice date, price, etc. If a customer closes a plan by adding reason, the subscription status automatically changes to close, informing admin. Payment mode can be changed by the customer that directly reflect in the subscription window.
This is how a subscription module in Odoo managed by a user. 
Odox Soft Hub can help you with services provided in web designing, mobile app development, and many more. We provide the best Odoo services with 100% client satisfaction. For any queries drop your mail at info@odoxsofthub.com.
To explore more about us feel free to
get in touch with us
.