Odoo13 has come up with an intuitive tool to ease up the recruitment process. Odoo13's enterprise edition has introduced a Referral app to boost recruitment effectively through a fun referral program. By encouraging the employees through rewards, organizations can make use of their employee's contacts to get an efficient candidature for their job positions.
Let's begin with installing Referral app,





After installing, you can see the dashboard as below,


It shows you some messages that really looks like gamifying the whole referral process with beautiful onboarding titles, which can be customized as your company needs. When you click on the NEXT button, it will show the included features, and finally, when START NOW is clicked you are allowed to choose an avatar for your friend who is to be referred.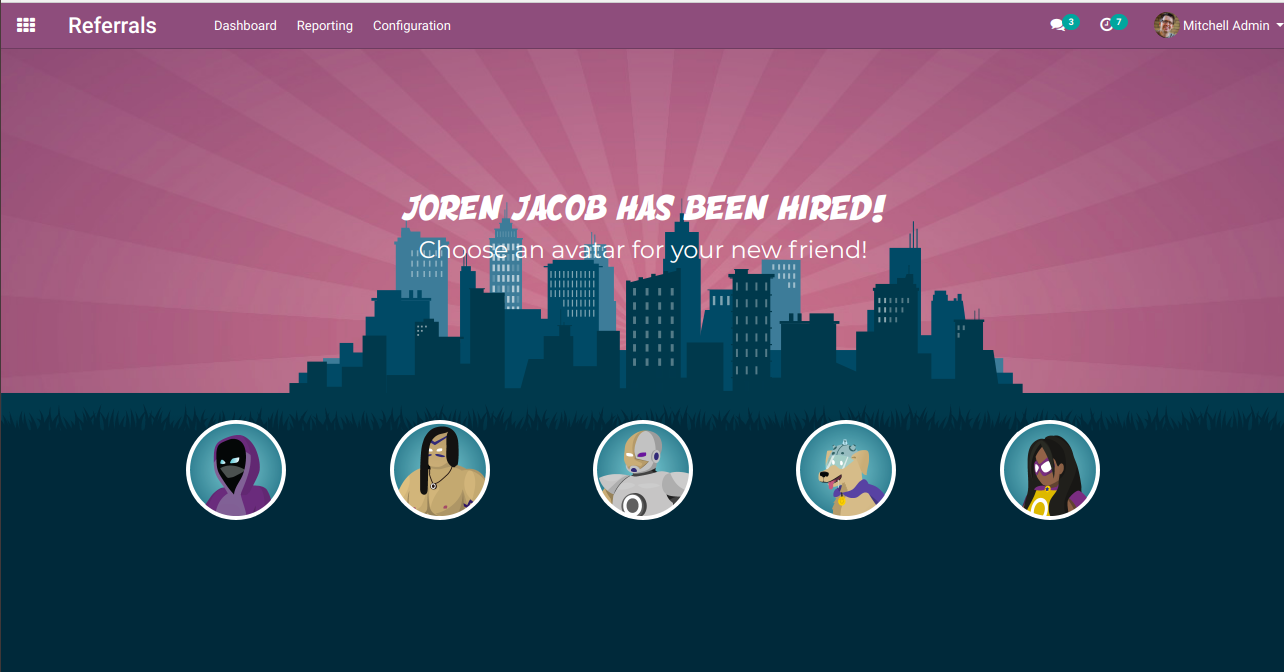 Your dashboard will be having the details regarding Rewards, Job positions in your company, option to email the job opening directly to your friends, your level up and the points you have claimed so far as shown in the screenshot below:


When you click on VIEW JOBS, you will be redirected to the available job openings in your company with the respective points that you can earn from it, like below: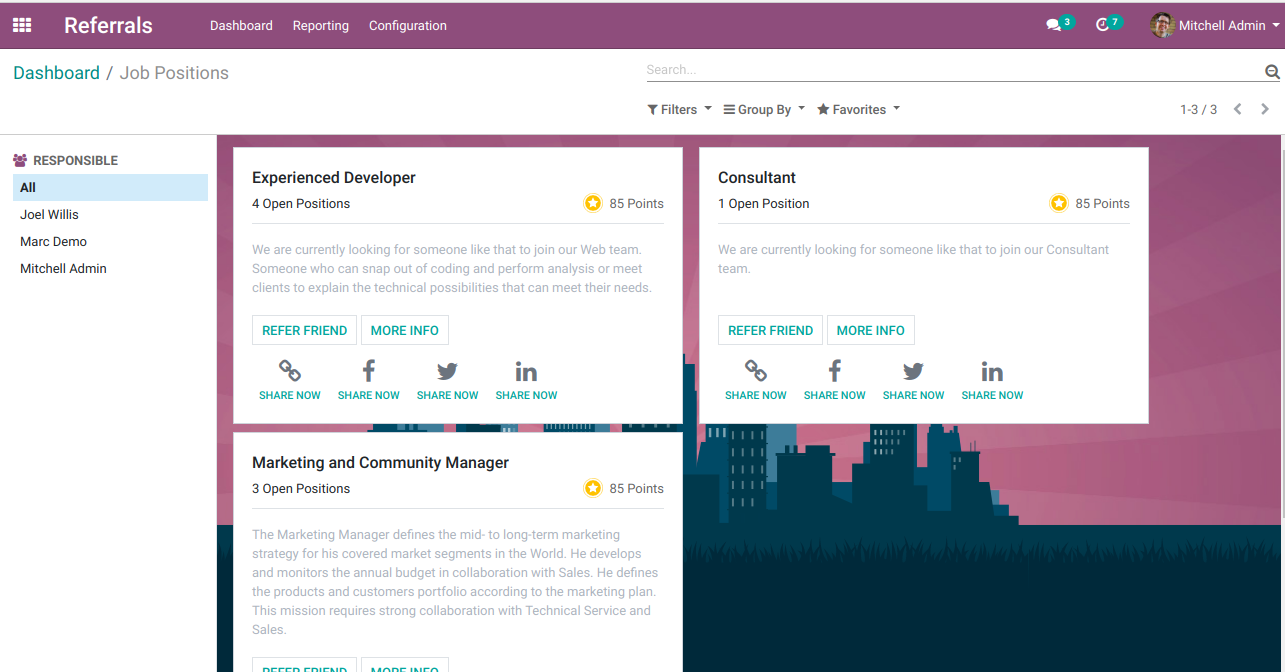 We can use the REFER FRIEND option to email a particular job opening to your friend. On clicking it, the mail template shows up as shown below:

MORE INFO button will take you to the job description page on your website, which gives detailed information regarding the job. You can even share the available job openings in your firm through social networks like Twitter, Facebook, LinkedIn, etc.
Now coming back to the dashboard, another option you find is EMAIL A FRIEND. On clicking on it, you will be given a pop with an email template where you can enter the email address of your friend, subject regarding the job and even you can customize the message content. It also includes the link of your website showing the job positions.


The REWARDS option will show you the available rewards and it's respective points that you need to claim the reward as shown below:


For example, if you have won 100 points you are likely to get a coffee mug as a reward from your firm. That's really encouraging!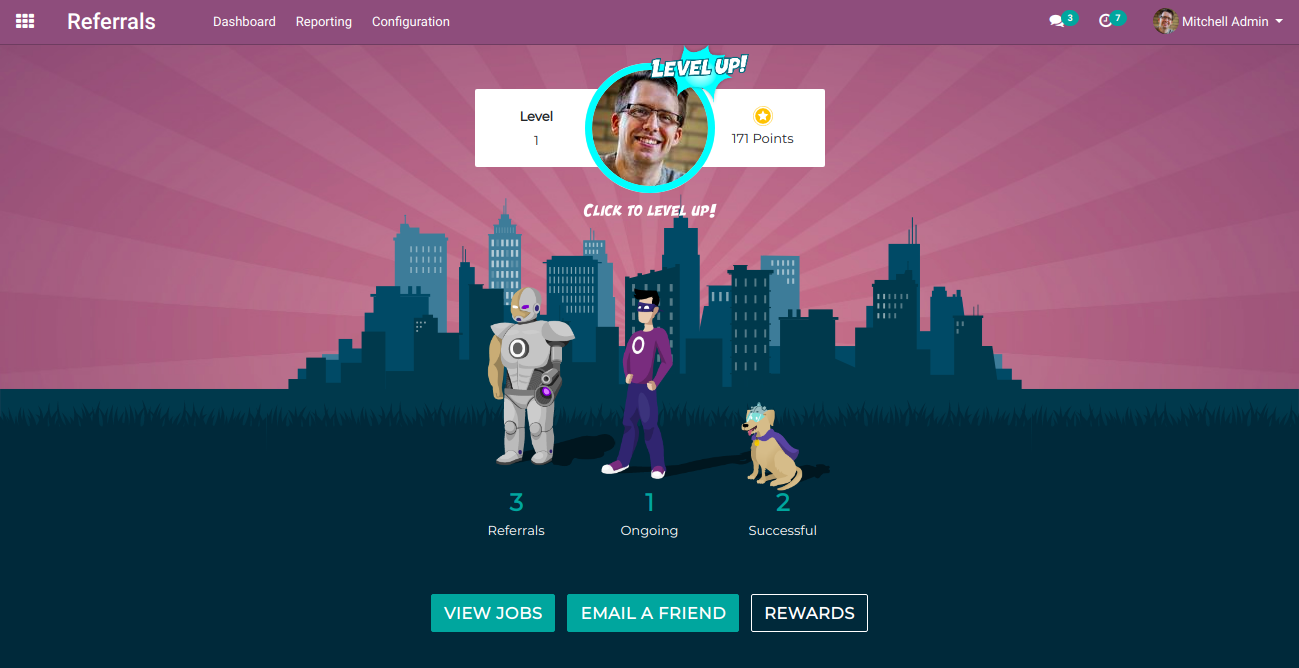 Now let's go back and check the other options in the dashboard. Information like Referrals, Ongoing, Successful along their respective avatars is also shown in the dashboard.
When Referrals is clicked, it shows all the referrals that you have made along with their progress, the points you acquired in each stage of your friend's recruitment process. Thus it makes it easy to track the progress of the person you referred, without directly asking the HR Manager.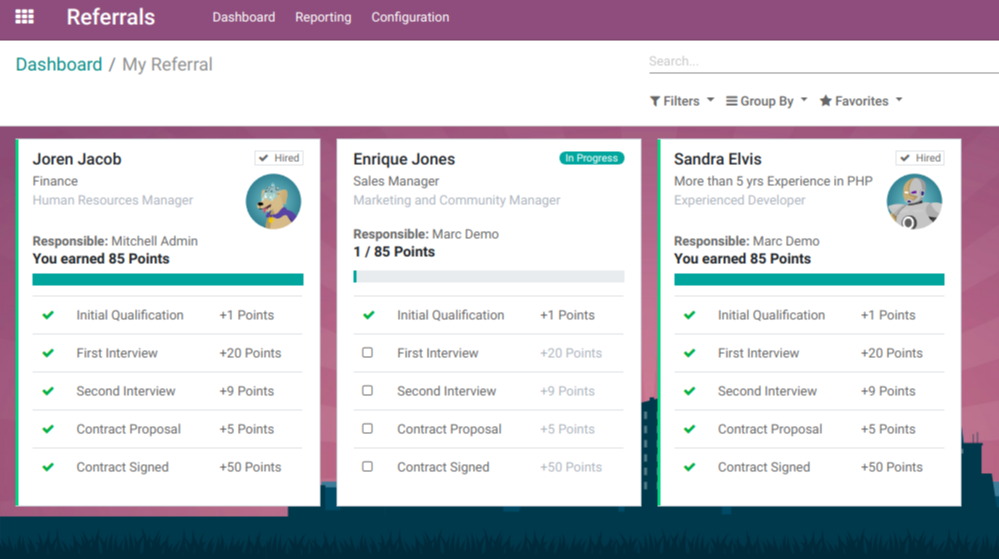 When Ongoing is clicked, it shows the details regarding the reference, which is still going on or in the state of "in progress".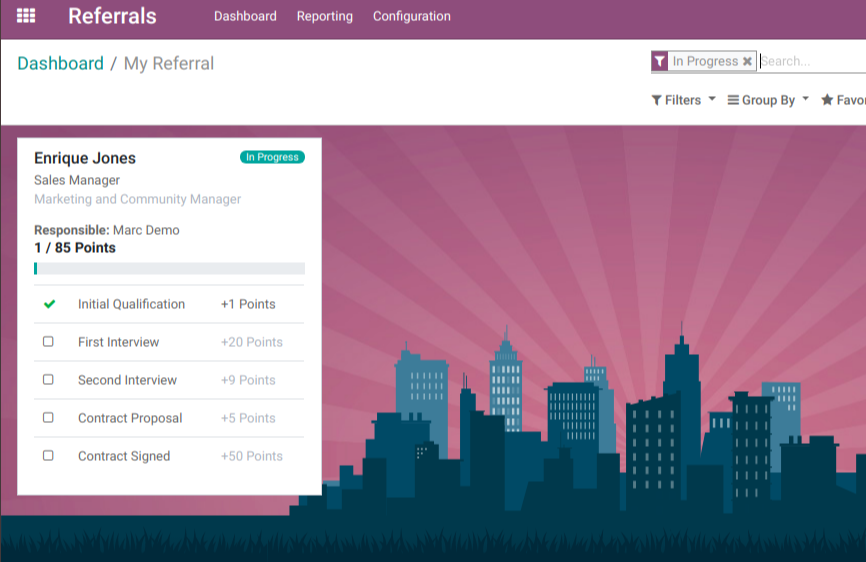 When Successful is clicked, it shows all the referrals of your's who were hired by your company.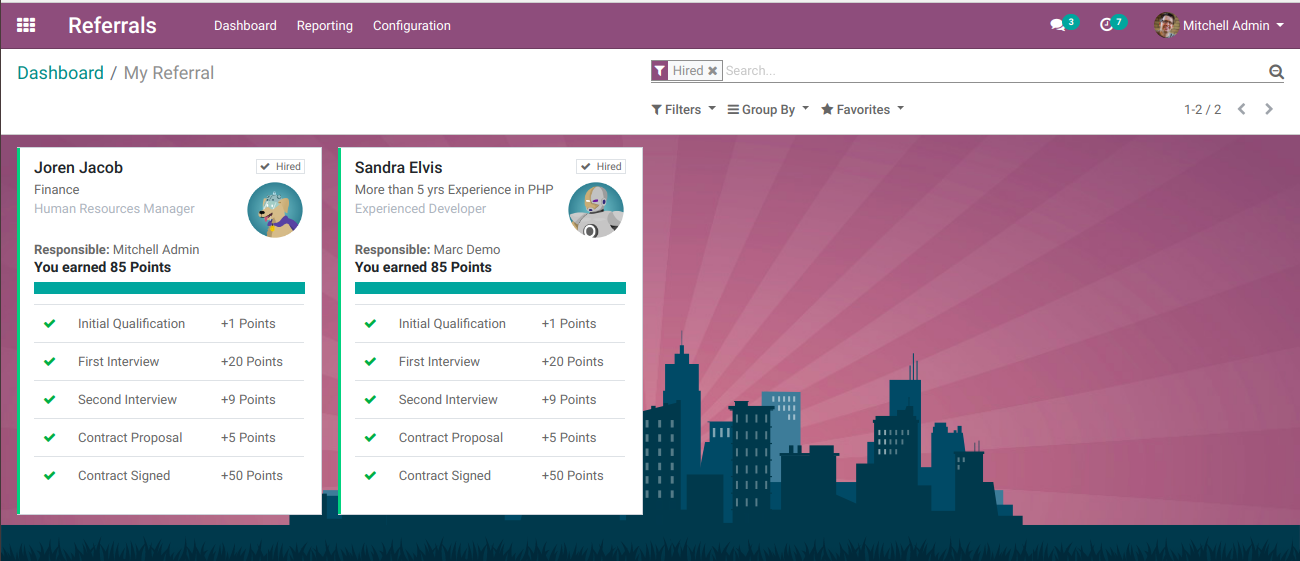 Once your referred candidate gets selected, Odoo 13 gives you the ability to choose an avatar image for your friend and add it as a team member which will be displayed in your dashboard. You can also level up and get your points bagged when your referral is selected.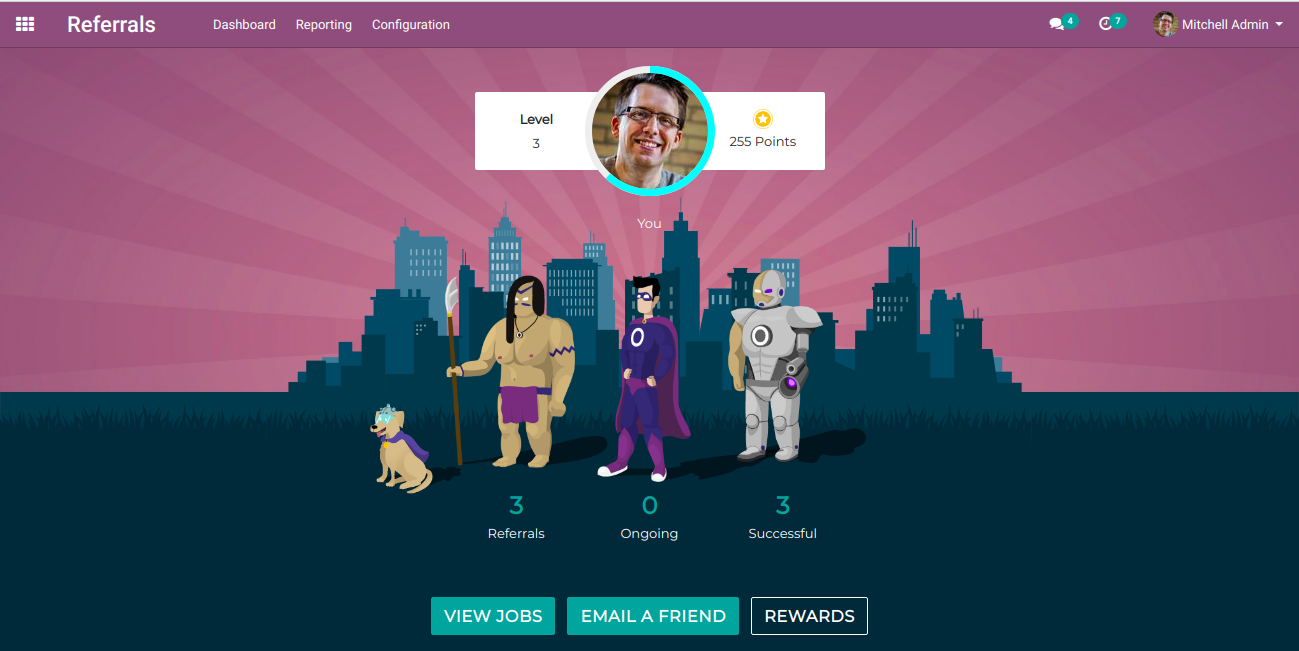 If you are the person responsible like administrator or HR Manager, the Reporting tool in the referral app will give you a detailed analysis report of your employee's referrals. You can get a line chart, bar chart, or even a pie chart reports detailing all the features including the points we earned, analysis based on each social network as well as direct referral methods, etc. We can also use the 'Group By' and 'Filters' option to get the report in the most desirable way.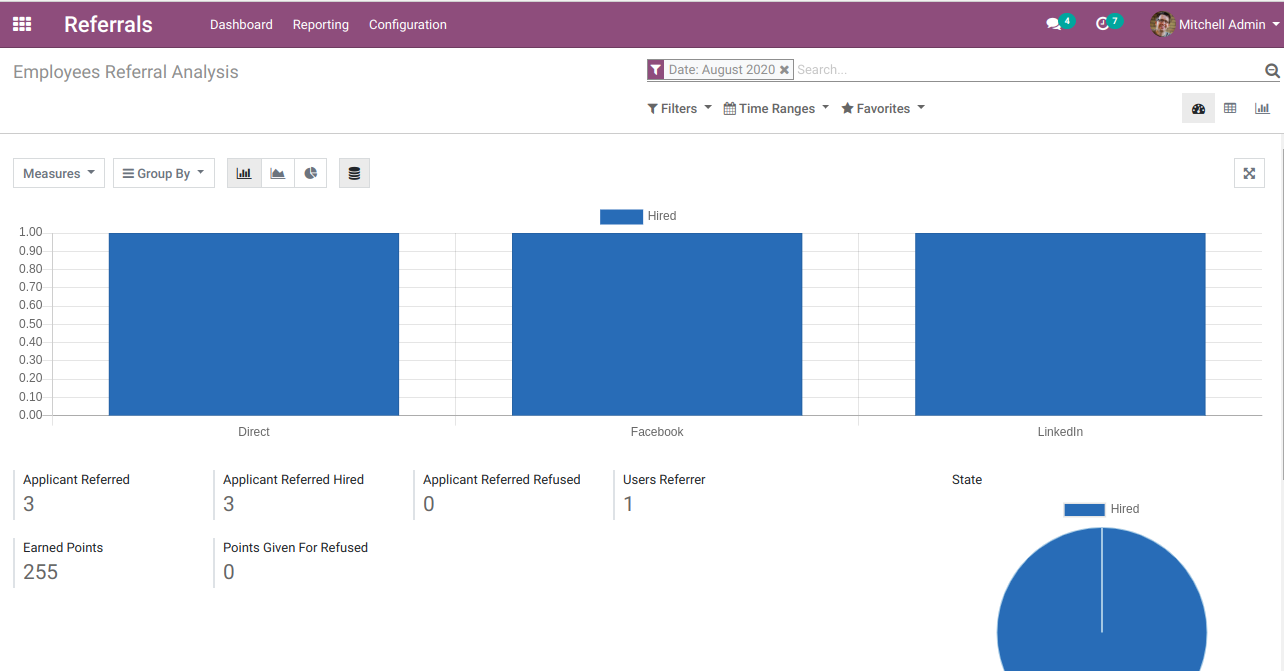 The Configuration menu helps the administrator or HR Manager to manage levels, rewards, alerts, onboarding titles, etc..
Rewards
To create rewards go to Configuration->Rewards->Create.
Enter the details like product name, points required, the responsible person who will be in charge to deliver the gift to the employee, and a small description too as shown below.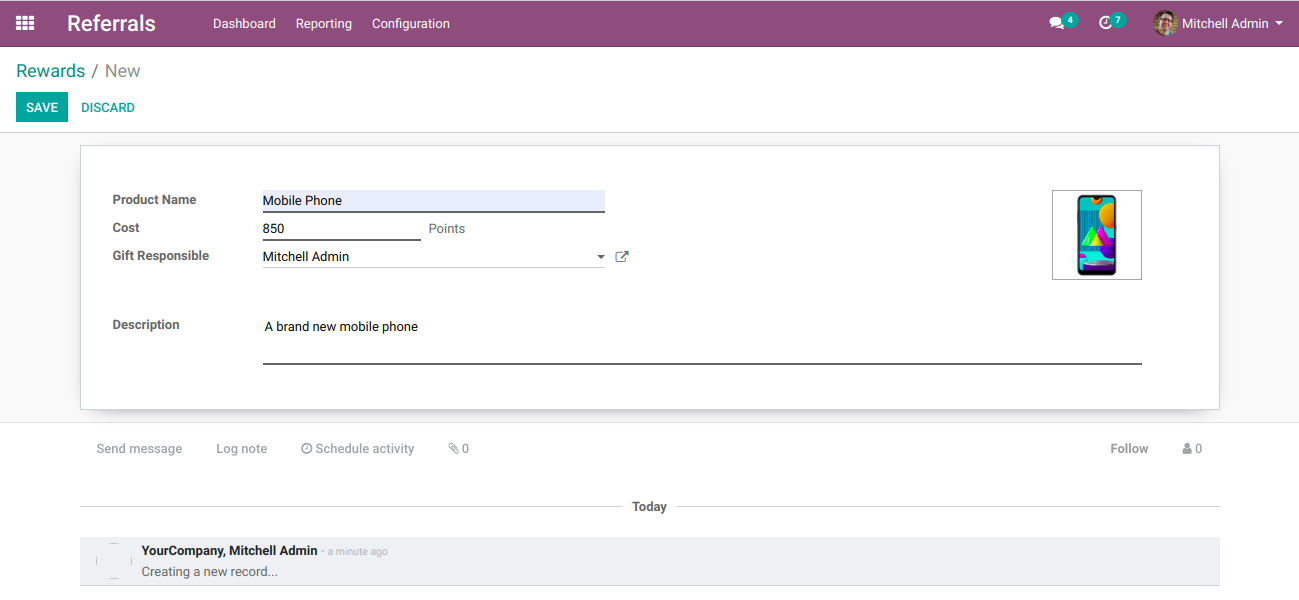 Levels
To create levels,go to Configuration->Levels->Create 
Give the details of level name, how much points is required to acquire that level and you can also give any image or your superhero icon to represent that particular level as shown below: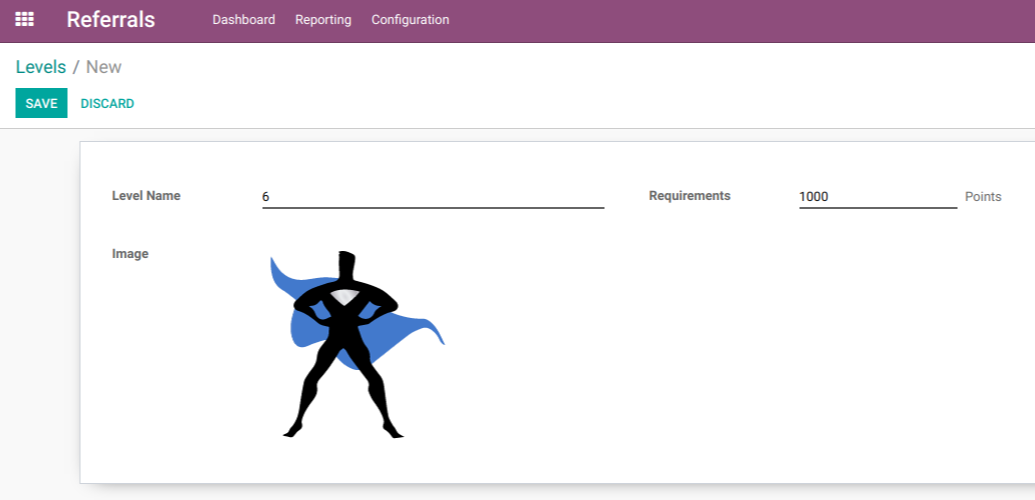 Friends
To configure the friends, go to Configuration->Friends->Create
Enter the details like friend name, the position where the icon has to appear on the dashboard, and the image as shown below:
Alerts    
To create alerts that could pop in your employee's dashboard, click Configuration->Alerts->Create
Give all the required details like from which date to which date the alert should appear, the content of the alert and what action should it do when it's clicked as shown below:  

For example, the alert we created now will be shown like this in your employee's dashboard.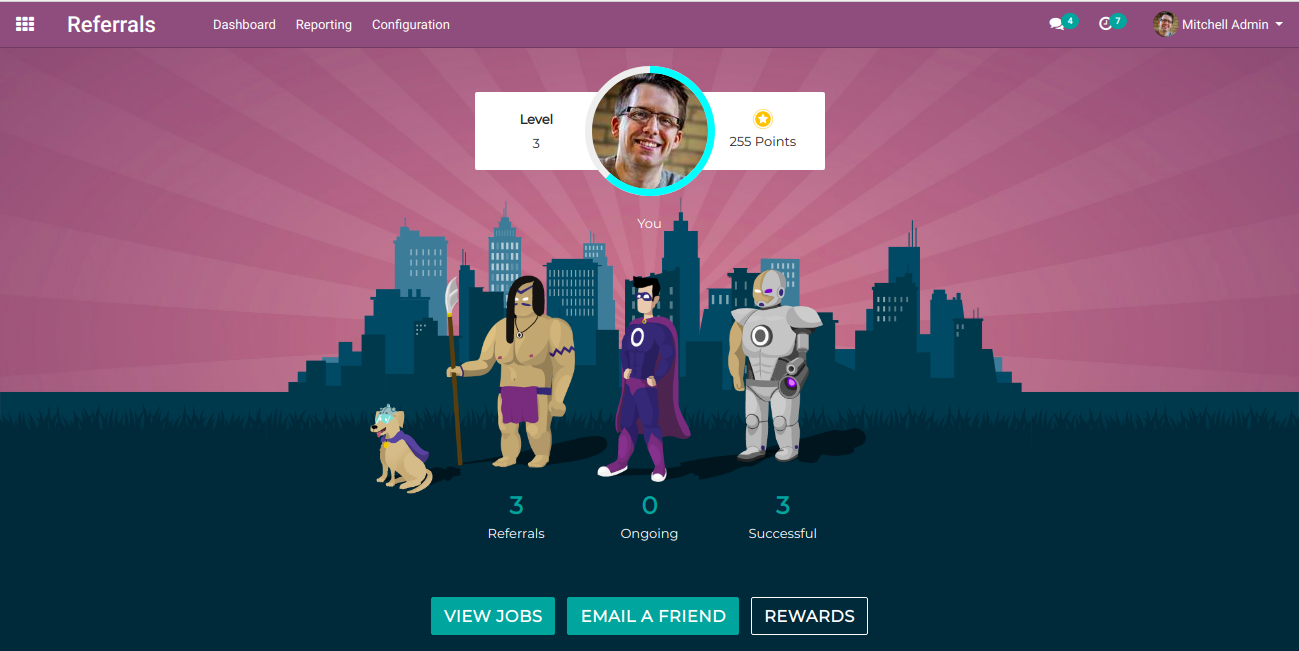 Onboarding
To create onboarding messages,go to Configuration->Onboarding->Create



Give the text that you need to show onboarding, the image you need to display, and the sequence at which it should appear..So simple.
When your employee logs in and checks the referral app, he can see the onboarding display that we created now like below: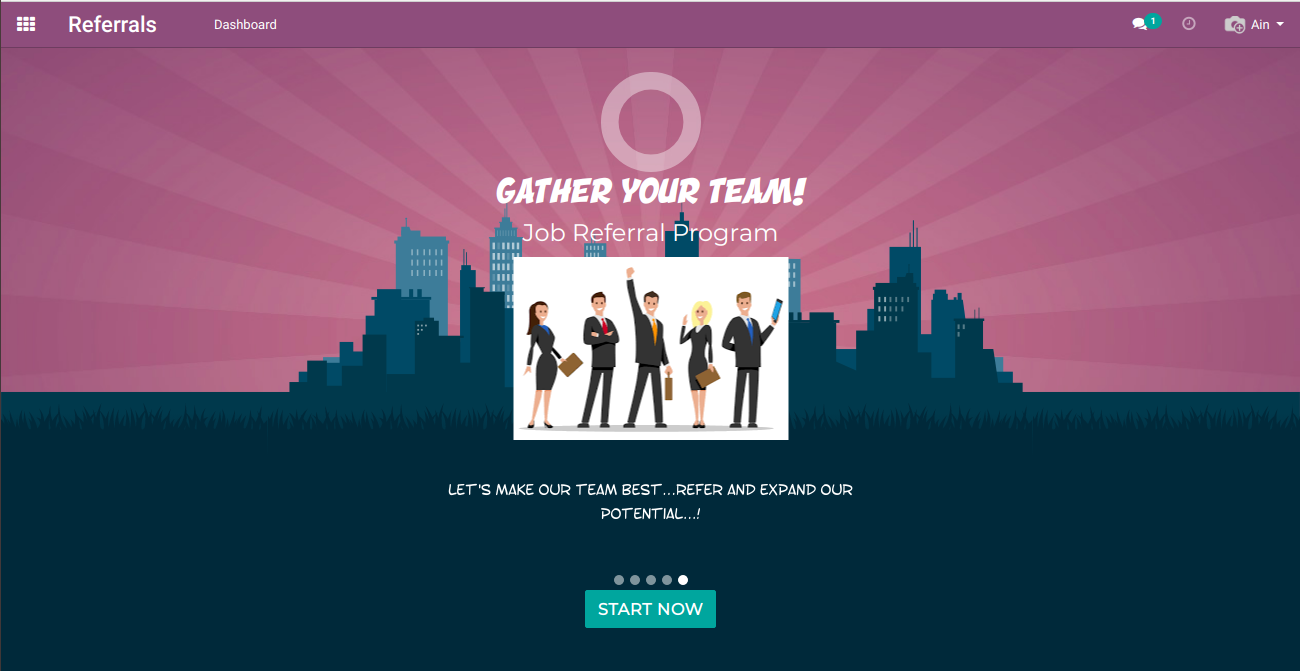 So this is how Odoo13 makes it easier for HR Managers to manage the selection process by encouraging employees through rewards.Odoo13 referral app is indeed a prominent feature in HR management. This fun referral program introduced by Odoo allows every employee to track the recruitment pipeline of each candidate whom they referred to and also earn exciting rewards in return for the points that they have gained. Thus referral app works in a gamified way in Odoo13 to speed up your recruitment process.
For any Odoo support, new implementation or upgrade to Odoo13, we provide the best Odoo services with 100% client satisfaction. For any queries drop your mail at info@odoxsofthub.com. To explore more about us feel free to  get in touch with us