Are you looking for effective customer service software for your business? 

What exactly a customer service software means?


CRM software functions like a digital solution for an organization's customer management system. Odoo is an ERP software that comes up with different modules such as Odoo CRM, HRM, Marketing, Operations Management, Bill and Accounting, Manufacturing, etc. Odoo CRM is a platform that gives you total control over your customer service system.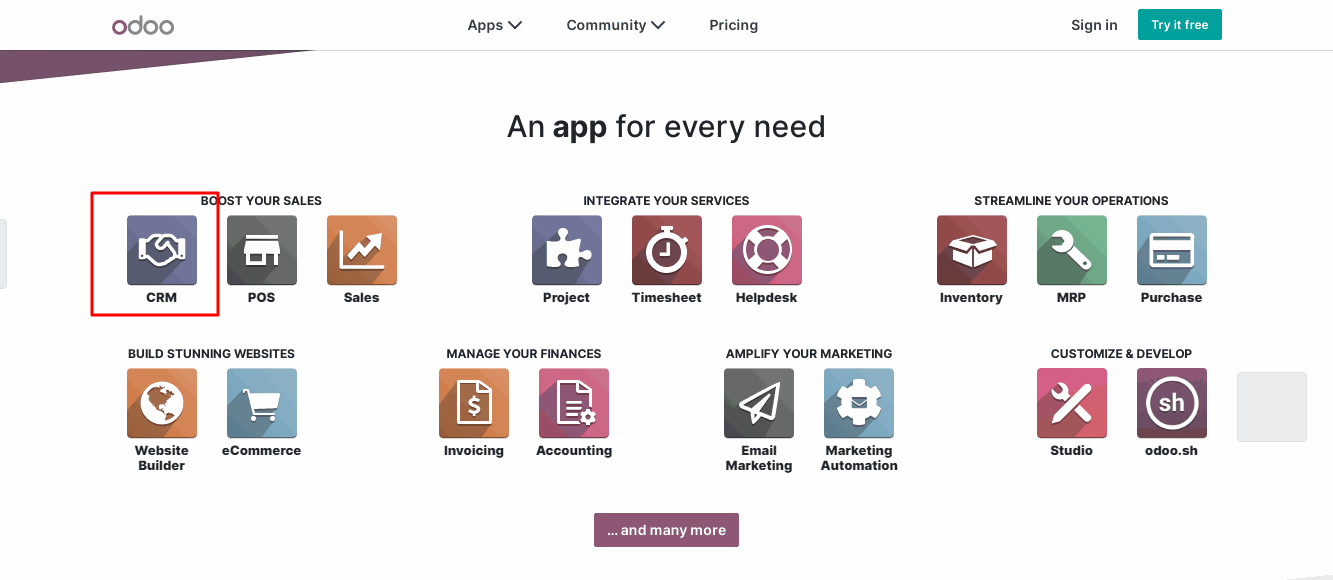 For every organization customer is the king. Effective customer management can bring success to the business. Odoo CRM gives you a 360-degree view of your customers. Odoo CRM covers all strategies, techniques, tools, and technologies used by an enterprise for developing, relating, and acquiring customers. It makes sure that every step of interaction with the customer goes effectively and smoothly to increase the overall growth of the organization. Odoo CRM maintains a database of your customers which includes overall purchase history, demographic data, even purchase behavior patterns.
CRM software ensures a great relationship with customers, colleagues, suppliers, etc. With this technologically advanced platform, it becomes easier to find new customers, provide qualified service to the customer and win their trust.


·

        
Technologically advanced User Interface 
Simple and easy to use. Odoo CRM dashboard gives an organized view of the sales activities. Odoo dashboard enables a technically advanced user experience. 



·

        
Reduces the disadvantages of data entry
Users can get leads automatically from email, VoIP calls and can send quotations and sale orders in a few clicks. It reduces paper works. Therefore, Odoo CRM minimizes the disadvantages of data entry. You can manage your sales pipeline with drag and drop.
CRM provides a clear overview of the opportunity pipeline. Odoo CRM helps to set up specific stages for the sales team. It is also possible to create sub stages to managing the processes better. Automatic archiving of lost opportunities is another unique feature of Odoo CRM. Lost opportunities will be available as a separate field. 


CRM software lets you track your dynamic business activities over different time intervals. Users can track the daily, weekly, and monthly performance of the sales team and hours invested by each team member. CRM gives you access to diverse analytical features to monitor various sales activities.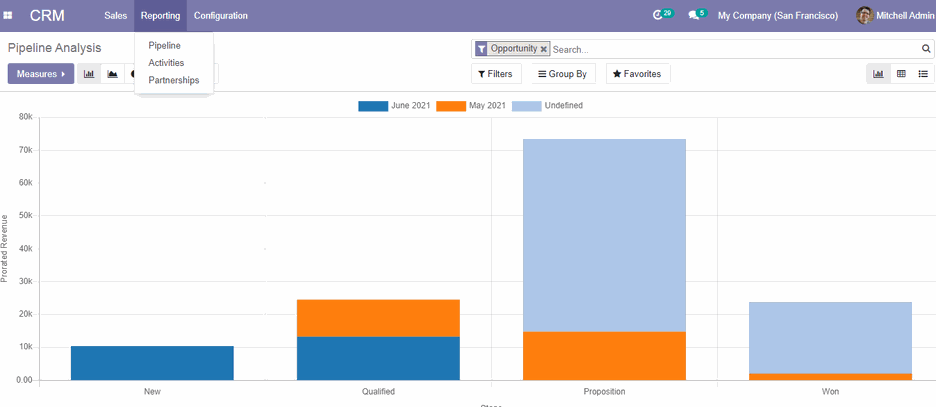 Odoo CRM helps to maintain leads separately from opportunity and avoid lengthy sales pipelines. It is easy to convert a lead to an opportunity through Odoo CRM. Proper tracing of leads will result in analyzing the leads from each marketing team. 
Advanced features 


Odoo CRM provides user friendly interface which makes it attractive and simple to use. It is a cost-effective and license-free application. Also, possible to access the system from anywhere using a laptop, mobile or iPad. In addition, the user can enter leads, access contact person details and schedule activities and meetings with few clicks. A decent and strong relationship can be maintained by the management to the customer with Odoo CRM software. 


The Customers can implement the software with the help of Odoo partners. Being the leading Odoo partner in India, Odox Soft Hub will be the best choice. Odox Soft Hub is a software development company providing professional IT solutions to global clients. We are equipped with a team of developers having expertise in ERP Development, Odoo Development, Odoo Resources, Odoo Customization, Web Design and Development, SEO, and Mobile App Development. We ensure that the development process we follow is matching the best in the industry and ensure maximum quality and efficiency.
We have the most professional team of both functional and technical people who gives their best on Odoo. 

To know more, drop a mail at

 
info@odoxsofthub.com