The Odoo Experience 2020 has been a joyride for the odoo community though it was virtual. The users have a lot to cherish this year as there are much higher up-gradation in odoo ever than before. Fabien Pinckaers addressing the keynote speech on Odoo Experience 2020 have highlighted the upgraded Odoo14 features that can get wide user acceptance.
Are you curious about the improvisations made in Odoo? We have collected all the features for you.
Easy Website building 




You do not need to know about designing anymore to build a website. There are ready-made themes introduced in the new version of Odoo. Website building, filters, shapes, photo resizes, color, editing bars are accessible just in few clicks.  The system itself will propose a color palette that will match your choice to maintain a beautiful design. The Odoo Website is now 3.42x times faster than v13 and allows us to customize almost everything on a website.
V14 saves Memory and Space
Unlike Odoov13, v14 has an app for removing unnecessary documents automatically saving the cloud/computer space for further use. The app named Data Cleaning improves the operational speed of the cloud-based system avoiding clutters. You can configure your own rules or automate the app for getting the duplicate entries discarded.
Automate Sales Management
Odoo v14 provides forecast assistance for sales and purchase management along with Outlook integration, enabling easy synchronization with CRM. The suite provides CRM law for recurring businesses for SAAS companies who have set subscriptions. A salesperson can create a to-do list along with the choice of showing or snoozing reminders for sending email or SMS to leads for follow-up or meetings.
Additional features, Lead Enrichment and Form builders helps the sales team to fetch data of a customer company and assign specific tasks reducing the customer response time.
Reliable optimized Inventory and Manufacturing features
The inventory app has a real-time replenishment feature which helps you to decide the quantity of a product to buy or manufacture and place orders according to the stock availability in your inventory. Odoo 14 inventory also updates about the stock available for the sales order, pickings, or manufacturing orders. According to customer demands, you can prioritize particular orders or change scheduled dates to make products available even during stock-outs by just changing dates.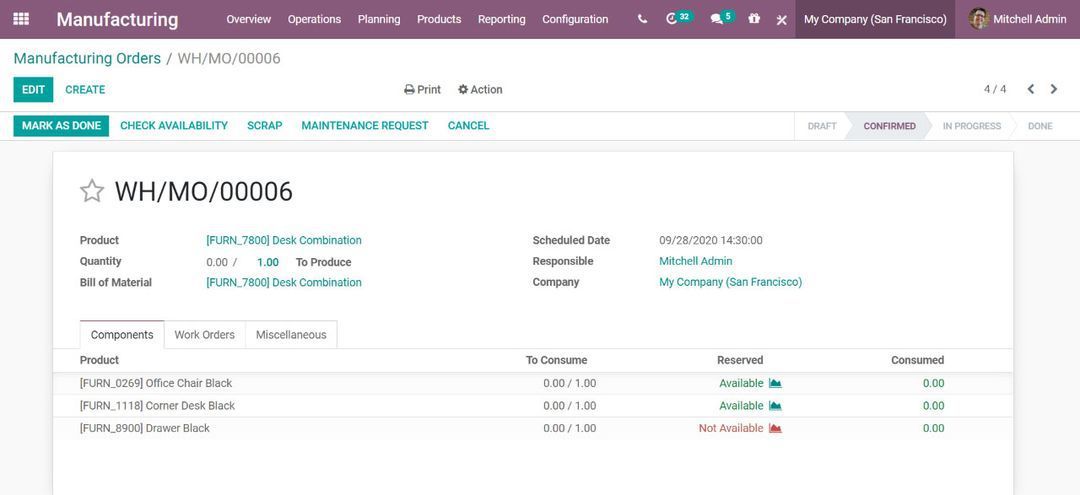 In new Manufacturing Planning, you can enjoy real-time replenishment reports, reordering rules, and a real-time Master Production schedule
Say hi to the updated Spreadsheet




Odoo 14 has a built-in intelligent and integrated spreadsheet app that helps you to create updated reports and documents across many modules like Expenses, CRM, Accounting, Inventory, Sales, Timesheet, Project, and more. You can now import all the system data and reports directly to the spreadsheet within Odoo. The spreadsheet templates in Documents maintain real-time data which reduces the work of data importing and exporting.
POS is now mobile-friendly
The Odoo POS is now compatible with all mobile devices available. The improved easy to install  Payment Terminal Integration allows multiple payment methods to work efficiently and is working on adding even more payment methods to the ERP system. The new feature in Odoo14 is the product configurator that allows product configuration in the POS sales screen, providing customizable products throughout your store.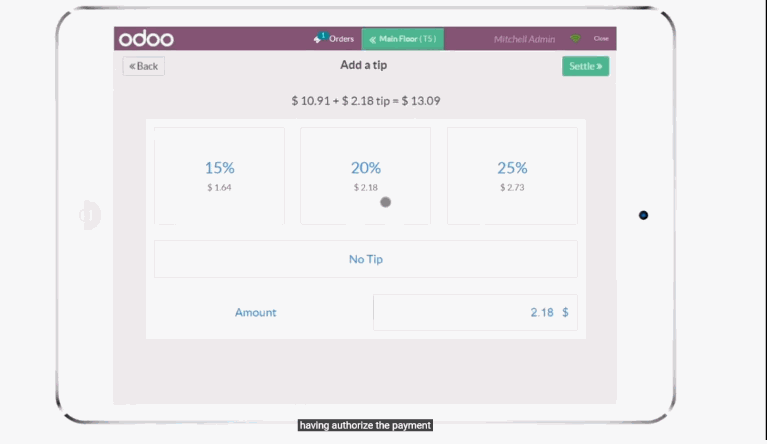 And to top it all off, Odoo's POS module offers you the option to add a tip after confirming payments!
The new features list goes on with newly introduced hotkeys, optional fields, and the option mass validating times for timesheet module, supplier reminders to keep tabs on suppliers. 
For the complete list of updates go through the below link of Odoo's release notes.
Watch Odoo version 14 release notes on Odoo's Website

For any Odoo support, new implementation or upgrade to Odoo13, we provide the best Odoo services with 100% client satisfaction. For any queries drop your mail at info@odoxsofthub.com. To explore more about us feel free to get in touch with us.